Dette er en den første av et foreløpig ukjent antall bloggposter relatert til Covid-19 i Norge, det vil være ulike tema, f.eks. nær-historie (siden Covid-19 oppstod), statistikk og sannsynlighet relatert til sykdommen/viruset og tanker om muligheter for Norge på veien videre. Første bloggpost blir om nærhistorie – Januar 2020.
MERK: Jeg er verken helsepersonell eller har annen ekspertise relatert til Covid-19, men har fulgt hele situasjonen relativt tett siden januar for å lære mer om den. Så det betyr at du ikke skal ta det jeg skriver som anbefalinger av noe slag, og være svært kritisk til det jeg skriver. Men det sagt, jeg prøver å gjøre en grundig jobb å finne tak i referanser til ting jeg skriver og si gjerne ifra hvis du finner feil.
Introduksjon
26. februar 2020 kom (sannsynligvis) første person med Covid-19 sykdom fra viruset SARS-CoV-2 til Norge, og ca 5 uker før det – 20. januar 2020 – startet Folkehelseinstituttet (FHI) temaside dette – https://www.fhi.no/sv/smittsomme-sykdommer/corona/ . Det er kun 46 (ca 6 uker) og 83 dager (under 3 måneder) siden de 2 datoene, men gitt alt som har skjedd siden da så virker det nesten som en helt annen tidsperiode. Alle i Norge (og verden forøvrig) er påvirket av dette i ulik grad og form.
Referanse – Tidligere større utfordringer og kriser i Norge
Norge har vært gjennom større utfordringer og kriser av ulike typer siden andre verdenskrig, noen eksempler:
epidemier (Asiasyken i 1957, Hong-kong syken i 1968 og Russerinfluensaen i 1977, ref: Tidsskriftet for Norske legeforening Sykelighet og dødelighet ved pandemisk influensa i Norge og HIV/Aids fra 1983 – ref Sykepleien Da HIV kom til Norge)
økonomisk (flere devalueringer av norsk krone – merk: uten oljefond var handlingsrommet mindre)
høy arbeidsledighet (f.eks. slutten av 1980-tallet og tidlig 1990-tall)
oljekrisen (i 1973)
større ulykker (bl.a. Aleksander Kielland plattformulykken, flykrasj i Torghatten, ras i Vassdalen, brann på Scandinavian Star)
terror (22.juli),
miljøutfordringer (radioaktivt nedfall ifm Tjernobyl-ulykken og sur nedbør),
ekstremt uvær (f.eks. nyttårsstorm i 1991/92 og flommer) og mange flere eksempler.
Men, covid-19 er den utfordringen som har ført til størst påvirkning av norsk samfunn i løpet av en veldig kort periode siden andre verdenskrig og det sier ikke rent lite.
Januar 2020
Torsdag 9.januar
Medisinske myndigheter i Wuhan by i Hubei-provinsen melder at 59 pasienter har blitt diagnostisert med lungebetennelse, og at det skyldes et nytt coronavirus – ref. artikkelen Coronavirus kan stå bak mystisk sykdomsbølge i Kina
Mandag 13.januar
Folkehelseinstituttet (FHI) ved seniorrådgiver Ragnhild Tønnesen sier i artikkelen ber helsepersonell være årvåkne om det kommer pasienter med luftveisinfeksjon som har reist i Wuhan-området.
Torsdag 16.januar
Japan bekrefter først smittede med nytt virus som det andre landet utenfor Kina – etter Thailand
Mandag 20. Januar
Folkehelseinstituttet ved avdelingsdirektør Line Vold publiserer en artikkel om at et hittil ukjent Coronavirus har utbrudd i Wuhan, Kina. Sykdommen smitter ved dråpesmitte og Folkehelseinstituttet følger situasjonen nøye. FHI opprettet da en side med informasjon om sykdommen – https://www.fhi.no/sv/smittsomme-sykdommer/corona/ 

Onsdag 22. januar så kom Universitetet i Sørøst-Norge ved førsteamanuensis Jörn Klein med en artikkel Dette bør du vite om virusutbruddet i Kina – hvor det nevnes at viruset ligner veldig på SARS-viruset fra pandemien i 2002/03, men at det virker mindre hissig. Jörn skriver at det meldes at 220 er smittet (i Kina) med 4 dødsfall, og at det i følge Imperial College (i London) sine estimater kan være mer enn 1700 smittet. Hans anbefaling til helsepersonell er følgende: "Slike pasienter bør bli bedt om å bruke en kirurgisk maske av type N95 så snart de er identifisert, og skal bli undersøkt i et privat rom med døren stengt – ideelt sett et luftbårent infeksjonsisolasjonsrom"

Torsdag 23.januar erklærte WHO (verdens helseorganisasjon) erklærte at utbruddet av sykdom forårsaket av coronaviruset ikke er en Public Health Emergency of International Concern (PHEIC) i publikasjonen Statement of the meeting of the International Health Regulations (2005) Emergency Committee regarding the outbreak of the novel coronavirus (2019-nCov) [5]. Viruset er rapportert funnet i Sør Korea, Japan, Thailand og Singapore i tillegg til Kina. Se også FHI's artikkel ved overlege Siri Helene Hauge om WHO sin erklæring Coronavirussykdom i Kina ikke erklært som internasjonal folkehelsekrise

Fredag 24.januar
Det er mistanke om at to turister som reiste til Finland via Gardermoen og Kirkenes var smittet av Coronavirus, de ble testet i Finland og det viste seg at de ikke var smittet. 
Møbelprodusenter som jobber tett med Kina – følger situasjonen tett mtp reising dit ifm potensiell smitterisiko.
Professor i klinisk mikrobiologi ved Universitet i Tromsø sier til NRK at coronaviruset har en betydelig lavere dødelighet enn for eksempel SARS og MERS.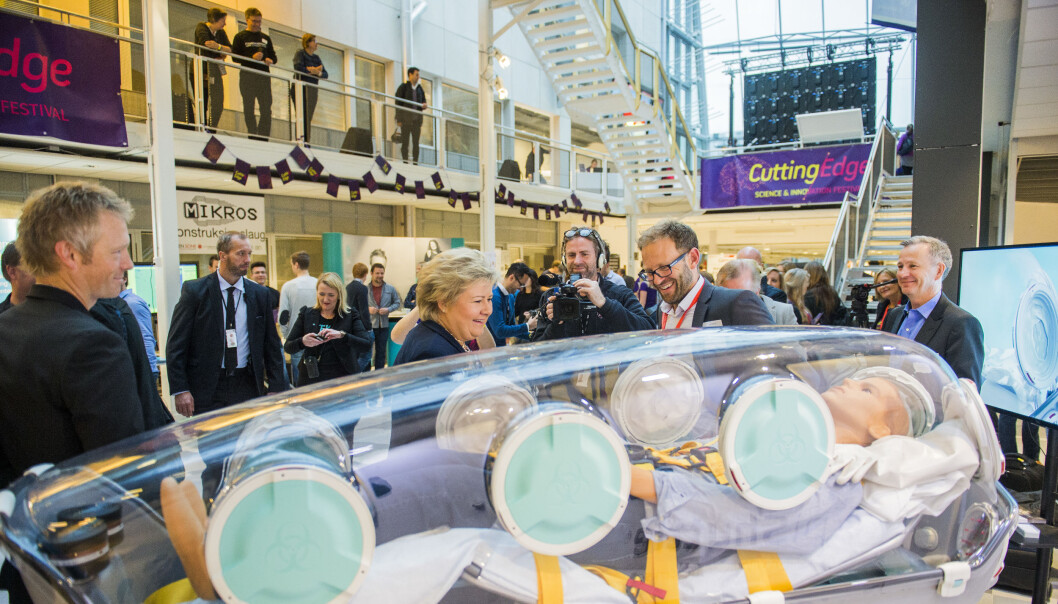 (Det norske) selskapet Epiguard som lager Epishuttle – isolasjonsbårer for trygg frakt av smittede pasienter – melder om sterk etterspørselsvekst grunnet Coronaviruset.
Lørdag 25.januar
Det publiseres flere videoer på Youtube fra Wuhan-området om virusutbruddet, f.eks. denne

Mandag 27.januar
Tirsdag 28.januar
NRK ved økonomikommentator Cecilie Langum publiserer en artikkel om slik kan coronaviruset ramme verdensøkonomien – med referanser til hva som skjedde under SARS, svineinfluensa (H1N1) og Zika-viruset.

Onsdag 29.januar
Tidskriftet (til den norske legeforening) ved overlege Preben Aavitsland fra Folkehelseinstituttet publiserer en artikkel Koronavirusepidemien vil ramme Norge.
Australske forskere ved Peter Doherty instituttet i Melbourne har klart å isolere Coronaviruset (viktig mtp forståelse for medisinering og vaksineutvikling).
Torsdag 30.januar
Oslo Metropolitan Universitet ved forsker Svenn-Erik Mamelund publiserer en artikkel om kan koronaviruset bli en verdensomspennende epidemi
Den norske regjering ved helse- og omsorgsminister Bent Høie og utenriksminister Ine Eriksen Søreide publiserer en artikkel om Koronaviruset og norske myndigheters arbeid hvor Søreide oppfordrer norske borgere i Kina om å registrere seg på https://www.reiseregistrering.no/ og ta kontakt med ambassaden i Beijing eller UDs operative senter.
Fredag 31.januar
Regjeringen melder at Koronavirus blir en meldepliktig sykdom og defineres som en allmennfarlig smittsom sykdom.
Coronavirusvaksinasjon er sannsynligvis ikke klar før om et år i følge National Institute of Allergy and Infectious Diseases (i USA)
Regjeringen publiserer en tidslinje (merk: kontinuerlig oppdatert fortsatt og framover i tid) med alle sine publikasjoner om tiltak og analyser relatert til Coronavirus